Shower Water Filter Replacement Cartridge - Carbon & KDF Filtration Media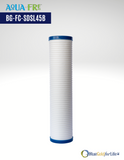 Filter Overview
The chemicals in tap water remove natural oils from hair and skin and lead to premature aging, eye irritation, hair breakage and loss, dry, itchy skin, and even allergic reactions, such as hives and lesions. Many people seek solutions in skin care products and medications, but the answer many times is in the water.
The AquaFre shower filter eliminates these problems by removing chlorine and heavy metals from the water supply and delivering fresh, pure water that supports overall well-being and optimal skin and hair health. Our proprietary filtration system includes a unique up-flow design that prevents clogging and increases the water's contact time with the filtration media for maximum contaminate extraction.
Water Filter Features
Easy to install and operate

Customizable filtration media

Increased water contact time for superior filtration

Retain shower head height and water pressure


Healthier Skin, Hair & Air - Reduced harmful chemicals means more moisturized skin, healthy shiny hair, and less chlorine in your shower steam.


Premium Carbon Filtration - Filter your shower water with coconut shell carbon and copper-zinc media that is independently tested to NSF/ANSI Standard 177 to reduce more than 90% of chlorine



Long Lasting & Cost Efficient Filtration - Our filters are some of the longest lasting on the market. Keep your water fresh for 6 months or 10, 000 Gallons and for as little as 25 cents a day. Naturally enhance your bath products and hair treatments with filtered shower water. Save money by using less shampoo, conditioner, and soap.
Water Filter Specifications
| | |
| --- | --- |
| Height (Inches) | 8 3/4" |
| Diameter (Inches) | 4 1/2" |
| Safety Listing | ANSI, NSF |
| Brand | AquaFre |
| Filtering capabilities | Chlorine |
| Flow Rate | 2.5 GPM |
| Total Number of Pieces | 1 |
| Filtration Method | Coconut shell carbon and Copper-Zinc (KDF) |
| Filter Life  | 12 Months |
| Max. Pressure | 80PSI |
| Capacity | 10,000 gallons / 37,800 liters |
| Max. Temperature | 115° F |
| Filter uses | Showers |
| Country of Origin | U.S.A. |
More from this collection