4.5"x20 - Sediment Filter with Scale Inhibitor For Tankless and Conventional Water Heater Filter Systems (BG-FC-SDSL45B)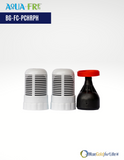 Scale Inhibitor Overview
The BG-FC-SDSL55B is the ideal replacement water filter cartridge for tankless and conventional water heater filter systems including the BG-SDSL45B. This is a premium cartridge that removes sediment from the water and contains genuine Siliphos®, a corrosion and scale inhibitor. A tankless water heater filter with scale inhibitor protects the heat exchanger in your tankless water heater and helps avoid tank failure. Recommended for commercial and residential tankless water heaters and boilers from such brands as Bosch, Navien, Noritz, Paloma, Raypak, Rheem, Rinnai, Stiebel Eltron, Takagi, and more. Tankless units can become easily damaged by the sediment in the water supply, so this filter provides protection against sediment, scale, and hard water.
Water Filter Features
Premium water filter cartridge with scale inhibitor to protect your heat exchanger and avoid tank failure
Removes sediment, sand, dirt, silt, rust, and other particles as small as 5 microns
Siliphos

 

® scale control product prevents scale and stops corrosion. It works by forming a thin protective layer on the metal surface to inhibit the deposition of scale and corrosion on your tankless water heater
Rigid construction with 68 deep grooves. The deep grooves increase surface area, enhance contaminant holding capacity, and promote fuller utilization of the depth matrix for fewer cartridge change outs
Reduces unloading at a high differential pressure
Made without adhesives, binders, surfactants, or lubricants for compatibility with a wide range of applications and operating conditions
The differences between our tankless water heater filter cartridge and other suppliers are the 5-micron absolute rating, deep grooves, end caps, core, and use of the most effective scale control formula. Don't settle for inferior cartridges with no track record!
Recommended for tankless commercial and residential water heaters, and boilers from brands such as

 

Bosch,

 

Navien,

 

Noritz,

 

Paloma,

 

Raypak,

 

Rheem,

 

Rinnai,

 

Stiebel Eltron, and

 

Takagi.
Fits all standard housings requiring a  4.5″ x 20″ replacement cartridge
Prevents scale, loosens existing scale deposits, and stops corrosion.
Water Filter Specifications
| | |
| --- | --- |
| Height (Inches) | 20" |
| Diameter (Inches) | 4.5" |
| Safety Listing | ANSI, NSF |
| Brand | AquaFre |
| Filtering capabilities | sediment, sand, dirt, silt, rust, and other particles |
| Micron Rating | 5 Micron |
| Total Number of Pieces | 1 |
| Filtration Method | Siliphos® |
| Filter Life  | 6 Months |
| Max. Pressure | 80PSI |
| Flow rate | 16GPM |
| Max. Temperature | 100° F |
| Filter uses | Commercial and residential water heaters, and boilers |
| Country of Origin | U.S.A. |
More from this collection