Water Filter Replacements For Pitchers (2PK), Reduces Chlorine Taste And Odor (BG-FC-PCHRPH)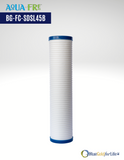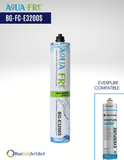 Water Pitcher Filter Overview
Best of all, the Ionic Adsorption Micron Filters used in the Aqua•FreTM Water Pitcher are the most laboratory-tested filters ever produced. The unique blend of media used in each filter removes up to 99.8% of all pollutants and contaminants found in any freshwater supply. The filters remove not only chlorine, bad taste, sediment, and odor – they also remove pathogens, such as Giardia, Cryptosporidium, and E-Coli bacteria and other cysts and spores – chemicals such as PCBs, herbicides, insecticides, pesticides, DDT, THM's, detergents and other organic compounds – and inorganics and heavy metals such as lead, mercury, aluminum, asbestos, cadmium, copper, anthrax and more.
Filter Features
For use with the Seychelle Gen 2 Dual Water Pitcher (64oz), AquaFre BG-PCHRPH, and Alexapure Pitchers.
Filters made in the USA and tested both Nationally and Internationally
Designed to be used with chlorinated municipal water. Not to be used with salt water.
Filters up to 150 gallons
Cost-effective. Replaces bottled water. 
Filters are easy to install.
More from this collection