5 Micron Granular Activated Carbon "GAC" Water Filter Replacement - 2.5"x10" (BG-FC-GACC)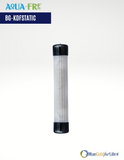 GAC Water Filter Overview
Protect your home, health, and appliances by filtering your water with a carbon filter. The AquaFre Granular Activated Carbon Filter removes major contaminants from your water and provides clean water for home uses.
The GAC removes major water contaminants like Chlorine, Total Organic Carbon (TOC), Pharmaceuticals, Turbidity, Volatile Organic Chemicals (VOC), Herbicides, Industrial Solvents, Insecticides, Pesticides, and Chemicals causing bad tastes, odors, and more. The GAC filter is good for up to 6 months. This is based on average water quality. Your carbon filter life may be different depending on your water quality, temperature, and incoming pressure. This durable water filter can deliver up to 1 gallon of water per minute. The 10-inch carbon filter works with 45-80 psi and water temperatures between 40-100°F.
The carbon filter pack is vacuum sealed and complete with a polypropylene shell, a thermally bonded cap, and an industrial-sealed silicon ring to make sure it's durable and reliable. This replacement filter allows you to filter your water with high-quality granular activated carbon for maximum chemical absorption. Choose the carbon filter replacement that lasts longer to give you the best value in filtration.
The AquaFre Granular Activated Carbon Filter Pack BG-FC-GACC is the best in carbon filtration and fits most under-sink filters, reverse osmosis (RO) systems, UV, and Purifiers.
Water Filter Specifications
| | |
| --- | --- |
| Height (Inches) | 10" |
| Diameter (Inches) | 2.5" |
| Safety Listing | ANSI, NSF |
| Brand | AquaFre |
| Filtering capabilities | Chlorine, Total Organic Carbon (TOC), Benzene, Industrial Solvents, Turbidity, and Chemicals. |
| Micron Rating | 5 Micron |
| Total Number of Pieces | 1 |
| Filtration Method | Granular Activated Carbon |
| Filter Life  | 6 months |
| Max. Pressure | 80 PSI |
| Flow rate | 1GPM |
| Max. Temperature | 100 F |
| Filter uses | Reverse osmosis systems, Whole house systems, under sink systems, countertop systems, and more. |
| Country of Origin | U.S.A. |
Compatible Systems 
| | |
| --- | --- |
| DuPont | WFPF38001C, WFPF13003B |
| Culligan | HF-360A and HF-150A |
| American Plumber | WC34-PR |
| Geekpure | RO5-FH10 |
| Hydronix | HF3-10CLBK34 |
| EcoPure | EPW2 |
| iSpring | RCC7AK |
| Global Water | RO-505, RO5DX |
| SimPure | RPWROKSN075HDB |
| Ronaqua | LEPAC10676 RA-125-10D-PP-CTO, RA-US-2 |
| Membrane Solutions | ROES-50-A |
| And more... | |
More from this collection