4925 Series - Chlorine Reduction modular Water Filtration System (BG-X4925)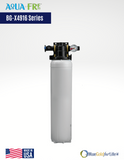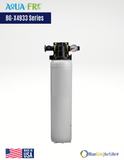 System Overview
The AquaFre BG-X modular water filter line is a comprehensive water treatment product line designed specifically for the food service industry. It offers a wide range of filters and systems that ensure high-quality water, addressing the concerns and trouble points expressed by customers. Proudly made in the U.S.A., this product line provides peace of mind and a one-stop solution for all your filtration needs.
The AquaFre BG-X modular water filter line offers the highest water filter performance capacities in the food service filtration market. With the ability to replace multiple cartridge systems, it provides a cost-effective solution throughout the supply chain. Whether you need basic sediment reduction or advanced carbon block and resin technologies, this platform covers a full range of food service products.
The manifold design enables customers to revert to their previous cartridge configuration if they are not satisfied with the BG-X systems. This level of flexibility and assurance sets the AquaFre BG-X line apart from other manufacturers.
Moreover, the NSF Certified Legacy platform ensures compatibility and offers replacement filters for all major filter brands, including 3m/Cuno®, Everpure®, and Hoshizaki®. You can trust that the AquaFre BG-X line meets or exceeds OEM performance for flow, filtration, and capacities, providing a reliable solution for your filtration needs.
Choose the AquaFre BG-X modular water filter line and experience superior water quality, easy installation, and cost savings for your establishment.
The 4925 Series

The exceptional 4925 Series Chlorine Reduction Water Filtration System is designed to deliver premium water quality in a variety of applications. With its 4.5x20" size, this system features a high-performance 5-micron carbon block cartridge, effectively reducing chlorine along with other common contaminants such as sediment, taste, and odor. For added benefits, the 4925 Series offers the option to include PO4 filtration, providing efficient scale control.

Ideal for a range of applications, including ice machines, frozen beverage (FCB) systems, coffee machines, whole-house filtration, as well as carbonated and non-carbonated drink applications, the 4925 Series ensures clean and refreshing water at every use. Say goodbye to chlorine's negative impact and enjoy the pure, great-tasting water you deserve. 
BG-X Features
Proprietary cartridge-to-head interface with FIRST-IN-CLASS features
Patented Bypass Integrity System (BIS) guarantees no unfiltered water in your product
Reverse compatibility allows easy upgrades to the newest technology and compatibility with major filter brands
Low pressure pushing filter out - Safety built-in

No pressurized water rocket on removal

No pressure relief is needed to remove the filter
Little resistance when re-inserting the filter and removal
Vent/Leak Detectors for added convenience
Built-in barrel valve prevents accidental water spillage or flooding and reduces water dumping on the floor during installation.
Auto-Leveling Technology ensures perfect installation every time
Built-in Auto Shut-Off and pressure relief for simple and safe installation and maintenance
Modular design for easy customization and expandability
High capacity with low-pressure drop configuration
Designed to meet the specs of customers like Coca-Cola, McDonald's, and Pepsi.
System General Specifications
| | |
| --- | --- |
| Chlorine reduction per cartridge | Up to 250,000+ gallons |
| Chloramine reduction per cartridge | |
| Scale reduction media | 3-4 times more than leading manufacturers |
Comparison Chart

BG-X4925P-B

BG-X4925X-B

Cartridge

Carbon + Scale Control

Carbon

Application
Whole-house / Ice machines / Frozen Beverage (FCB) applications / Coffee Machines.

Whole-house / 

Carbonated and Non-Carbonated drink applications.
Micron

5.0M




5.0M

Flow Rate

5.00 GMP




5.00 GMP

Capacity
Reduction of

Scale Control

Sediment
Chlorine
Taste
Odor

Sediment

Chlorine

Taste

Odor

Verifications

NSF 42 (Chlorine Reduction)

NSF 372 (Lead-Free)

 

NSF 42 (Chlorine Reduction)
NSF 372 (Lead-Free)

 

Benefits

Lower maintenance and equipment costs.
Carbonation retention
Lower labor cost of PM

Lower maintenance and equipment costs.
Carbonation retention
Lower labor cost of PM

Dimensions

4.5 x 20

4.5 x 20
Port Size

1"

1"
Designed for manufacturability
All components clip together by hand
Systems can be fully assembled and modified/expanded/upgraded in the field.
No special tools are required (Simple tools)
Systems are easily configured in parallel, serial, or (+) phosphate flow paths.
DBG-X backward compatible with legacy systems
A simple change of the outer head assembly from BG-X allows backward compatibility to Everpure, Hoshizaki, 3M Cuno CFS-8000 / 9000 series, and 3M high flow. 

Customers can use/return to the legacy system if desired.
Peace of mind / Reassurance that they can always revert to the previous filtration platform.
"Build-on-the-wall" Option
Lego approach; Build exactly what is needed.

Reversible / Same side in / Out flow.

Speed change-out from legacy systems.
Allows installer to optimize installations.
More from this collection